Un asunto de familia: los hermanos Aguilar y el recenso del FDP de Panamá en BCI
(This post is available in English, below.  We express gratitude to Sonia Tejada for the Spanish translation.)
Un asunto de familia: los hermanos Aguilar y el recenso del FDP de Panamá en BCI 
La Parcela de Dinámica Forestal de 50 ha de Isla Barro Colorado (BCI) en Panamá es el sitio más antiguo de la red ForestGEO. Los equipos de campo han realizado censos en intervalos de cinco años desde 1980, sin embargo, el noveno censo se interrumpió poco después de su inicio en enero del 2020 debido a la pandemia mundial de COVID-19.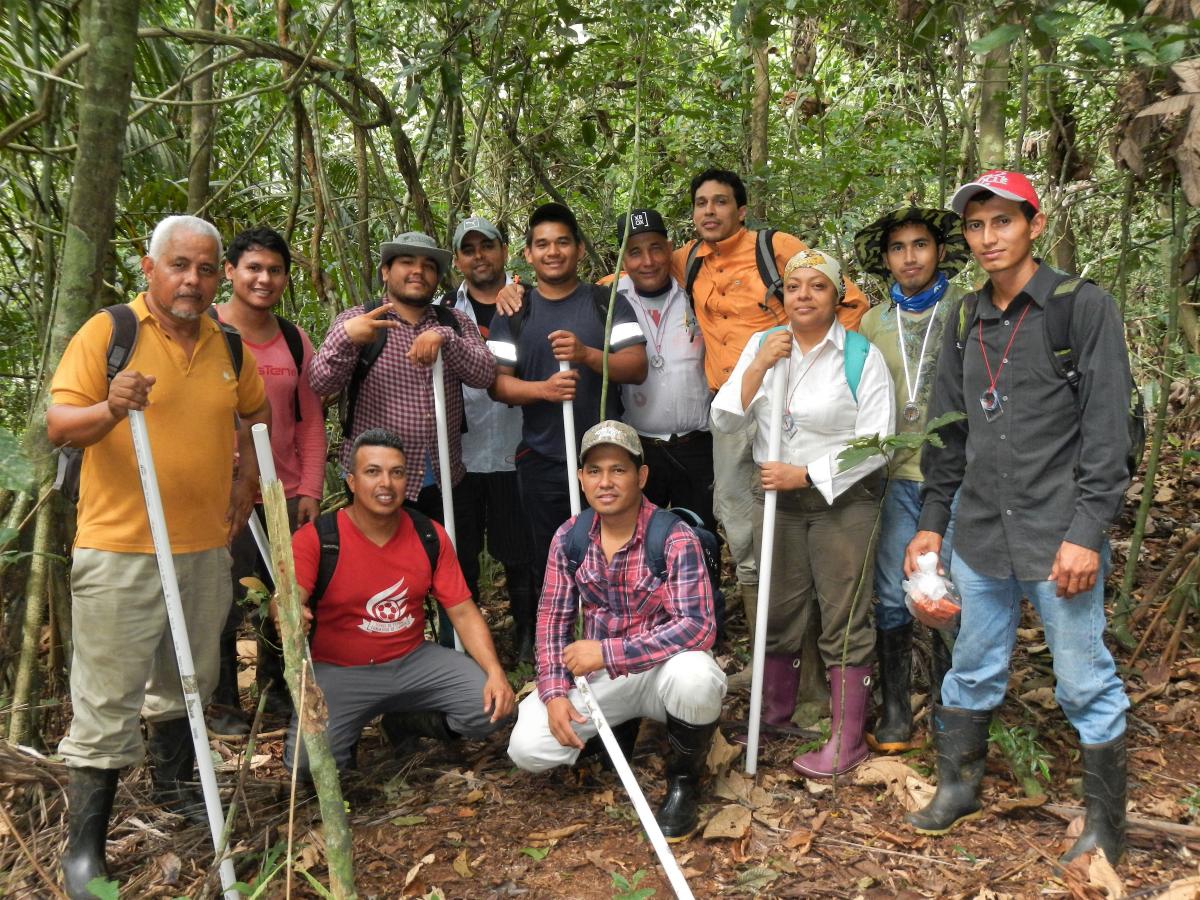 A pesar de que la pandemia continúa, las intervenciones de salud pública y los protocolos de seguridad permitieron que el equipo de campo reanudara el noveno censo el 14 de febrero del 2022. La adición de estos datos es fundamental para la continuidad del conjunto de datos a largo plazo, pero debido a que se están recopilando fuera de su intervalo habitual de cinco años, existen algunos desafíos adicionales. David Mitre, uno de los líderes del equipo de ForestGEO Panamá, señala que será crucial averiguar "cómo manejar el aumento en las medidas de diámetro promedio entre los censos de 2015 y 2022". Más inmediatamente, los miembros del equipo de campo están lidiando con la mayor cantidad de nuevas plantas, una mayor acumulación de materia orgánica que aumenta el tiempo que se tarda en encontrar etiquetas de plantas en el suelo y una mayor dificultad para encontrar árboles que están vivos solo debajo del punto de medición.
Además, el equipo de campo está realizando simultáneamente un estudio de mortalidad dentro de la parcela de 50 ha y emprendiendo un nuevo censo de las 14 parcelas de 1 ha cerca del Área del Canal de Panamá. David Mitre, Salomón Aguilar, y Rolando Pérez lideran a 15 técnicos de campo en este trabajo. Muchas personas contribuyen al éxito de los censos, incluidos los dos hermanos de Salomón, Luis y Guillermo.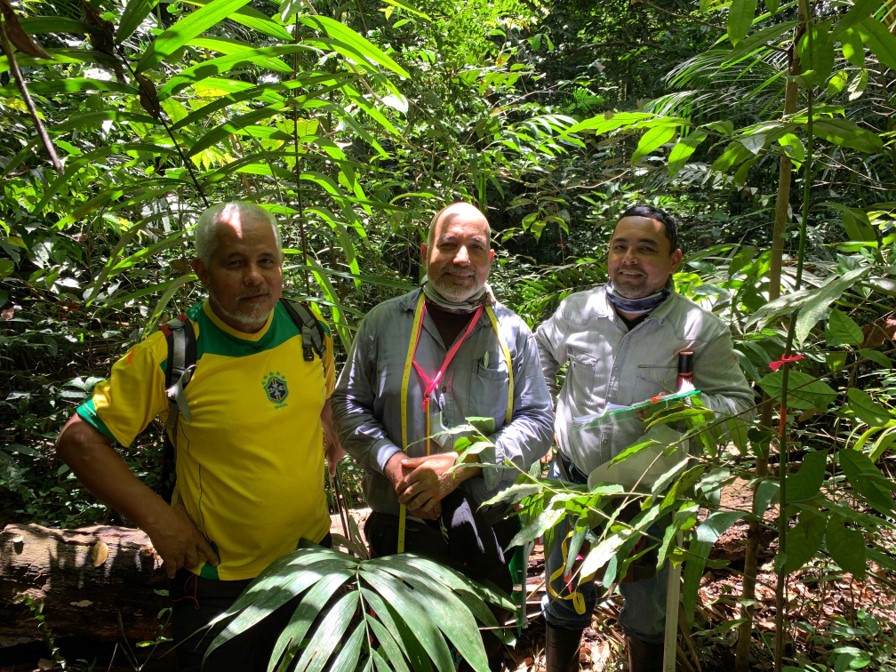 Si bien los tres hermanos han contribuido a los proyectos y censos de ForestGEO durante un tiempo considerable, Salomón ha estado involucrado por más tiempo. Empezó en 1986 como peón de campo dando mantenimiento a la parcela de 50 ha, colocando cañas cada cinco metros y marcando las esquinas de cada cuadrante de 20x20 m. con cinta fluorescente. Participó en el recenso de la parcela en 1990 y se ha vuelto increíblemente conocedor de la flora panameña, transmitiendo al equipo lo que ha aprendido sobre la identificación de árboles, plántulas, semillas y frutos de especies. Se desempeña como supervisor de gran parte del trabajo del censo, interpreta las condiciones de los árboles y en general, ayuda a resolver los problemas que surgen durante el trabajo de campo.
Luis y Guillermo empezaron su participación en ForestGEO en el 2005, Luis recolectaba muestras de hojas de árboles y Guillermo limpiaba la oficina de ForestGEO en BCI. Desde 2005 ambos han contribuido a múltiples censos y proyectos de investigación en la Isla. Sus años de experiencia les permiten no solo mapear, medir y etiquetar árboles, sino también apoyar la capacitación de nuevos miembros del equipo de campo. Al igual que Salomón, son hábiles para resolver los problemas que se presentan en el campo y en la etapa de ingreso de datos. 
David Mitre menciona: "Salomón siempre ha sido muy paciente y enseña a los nuevos colaboradores todos los detalles que hacen que el trabajo de campo sea exitoso, y este enfoque se ha transmitido a Luis y Guillermo". ForestGEO agradece a los tres hermanos Aguilar por sus contribuciones de larga data y especialmente a Salomón por la amabilidad y el cuidado que definen su liderazgo.
---
Citas del campo:
"Las cosas (por ejemplo, tazas, chancletas…) no son del dueño, son del que las necesita" – Salomón Aguilar | un reflejo de su generoso liderazgo y compromiso con el equipo de campo
"Copiado, mi comandante" – Luis Aguilar | su respuesta cada vez que recibe una instrucción de los supervisores
Una muestra de la participación en el proyecto
1986: Salomón empieza como trabajador de campo en BCI, ayudando con el mantenimiento de las parcelas.
1987: Salomón lidera el proyecto de dosel en BCI para determinar las especies de árboles dioicas con flores.
1989: Salomón continúa su liderazgo del proyecto del dosel en BCI.
1990: Salomón ayuda a organizar el recenso de la parcela de BCI de 50 ha con un enfoque especial en la identificación de especies de nuevas plantas.
2005: Luis recolecta muestras de hojas de árboles en BCI.
2006: Luis inspecciona las parcelas de 1 ha en el Área del Canal de Panamá; Guillermo recolecta muestras de hojas de BCI para el proyecto de código de barras de ADN.
2007: Luis y Guillermo participan en el primer censo de lianas en BCI con el Dr. Stefan Schnitzer.
2008: Luis continúa con el censo de lianas; Guillermo contribuye a un censo de plántulas con la Dra. Liza Comita.
2009: Luis concluye el censo de lianas, luego comienza la instalación de dendrómetros en BCI.
2010: Luis continúa instalación de dendrómetros; Luis y Guillermo participan en su primer censo de árboles ForestGEO en BCI.
A Family Affair: The Aguilar Brothers and the BCI, Panama FDP Recensus
The Barro Colorado Island (BCI) 50-ha Forest Dynamics Plot in Panama is the oldest site in the ForestGEO network.  Field teams have conducted censuses in five-year intervals since 1980, however, the ninth census was interrupted shortly after it began in January of 2020 due to the global COVID-19 pandemic.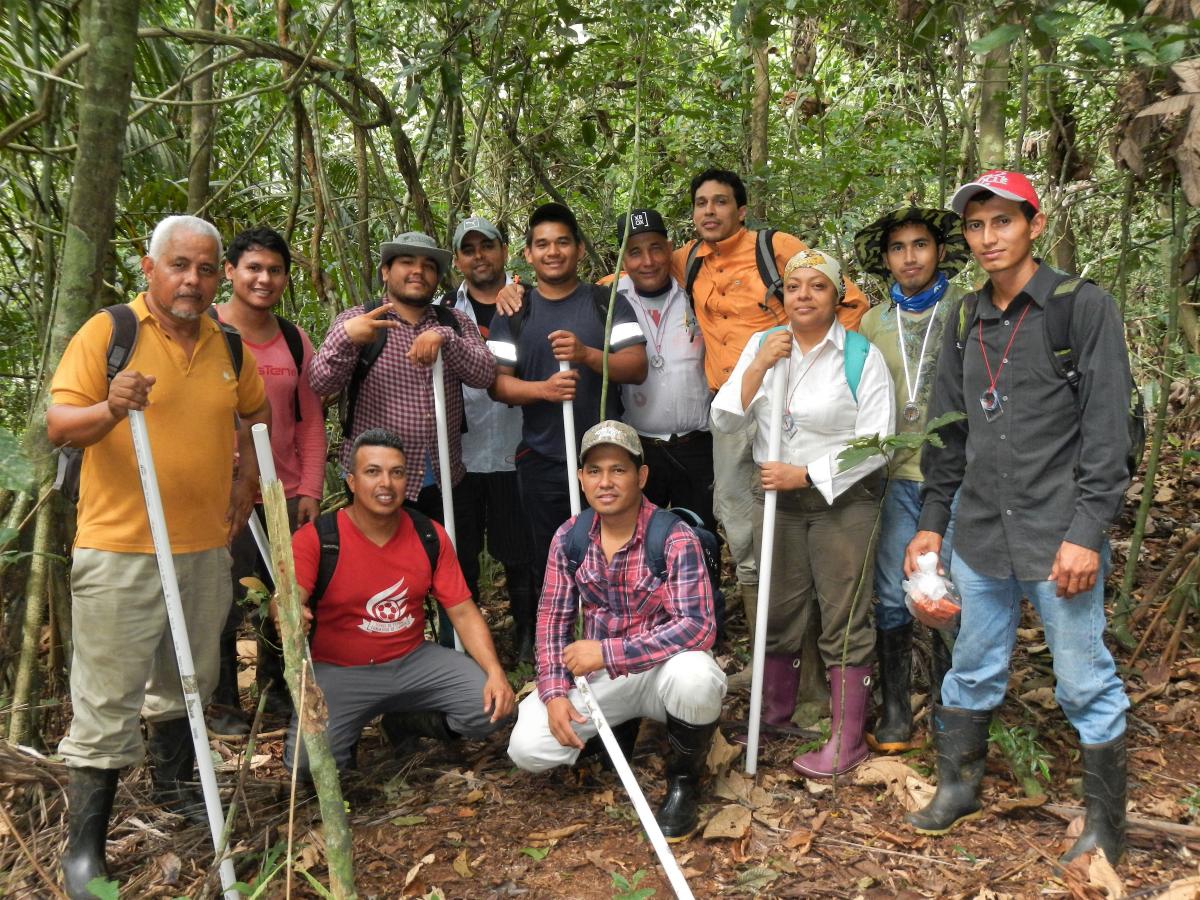 Although the pandemic continues, public health interventions and safety protocols allowed the field team to resume the ninth census on February 14, 2022.  The addition of this data is critical to the continuity of the long-term data set, but because it is being collected outside its usual five-year interval, there are some additional challenges.  David Mitre, one of the leaders of the ForestGEO Panama Team, notes that figuring out "how to handle the increase in average diameter measurements between the 2015 and 2022 censuses" will be crucial.  More immediately, members of the field team are contending with the largest number of newly recruited plants, greater accumulation of organic matter increasing the time it takes to find plant tags in the soil, and heightened difficulty finding trees that are alive only beneath the point of measurement.
Additionally, the field team is concurrently conducting a mortality survey within the 50-ha plot and undertaking as a re-census of the 14 1-ha plots near the Panama Canal Area.  David Mitre, Salomón Aguilar, and Rolando Pérez lead 15 field technicians in this work.   Many people contribute to the success of the censuses – including Salomon's two brothers, Luis and Guillermo.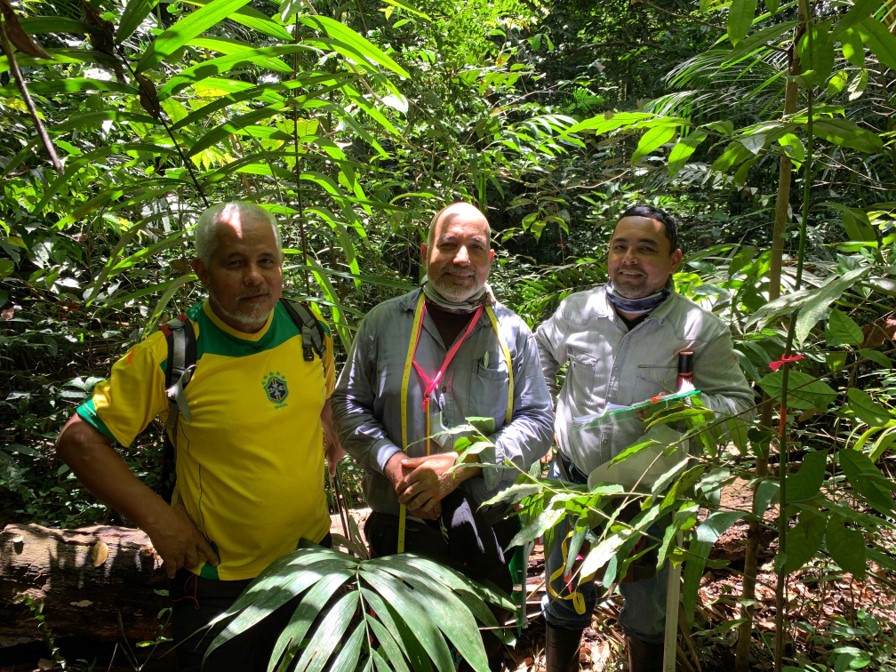 While all three brothers have contributed to ForestGEO projects and censuses for a considerable amount of time, Salomón has been involved the longest.  In 1986 he began as a field worker providing maintenance to the 50-ha plot, placing canes every five meters and marking the corners of every 20 x 20 m quadrat with fluorescent tape.  He first participated in the recensus of the plot in 1990 and has become incredibly knowledgeable about Panamanian flora, passing on what he's learned about identifying trees, seedlings, seeds, and fruits to species to the team. He serves as the supervisor for much of the census work, interprets the conditions of the trees, and generally helps resolve problems that arise during fieldwork. 
Luis and Guillermo began their involvement with ForestGEO in 2005, Luis collecting leaf samples from trees, and Guillermo cleaning the ForestGEO office at BCI.  Since 2005 both have contributed to multiple censuses and research projects on the Island.  Their years of experience allow them not only to map, measure, and tag trees, but also to support the training of new field team members.  Like Salomón, they are skilled at solving problems that arise in the field and in the data entry stage.   
David Mitre observes, "Salomón has always been very patient and teaches new collaborators all of the details that make fieldwork successful – and this approach has been transmitted to Luis and Guillermo."  ForestGEO is grateful to all three Aguilar brothers for their long-standing contributions and especially to Salomón for the kindness and carefulness that define his leadership. 
---
Quotes from the Field:
"The things (i.e. cups, flip-flops…) do not belong to the owner, they belong to the one who needs them" – Salomón Aguilar | a reflection of his generous leadership and commitment to the field team
"Copied, my commander" – Luis Aguilar | his response whenever he receives an instruction from supervisors
A Sampling of Project Involvement
1986: Salomón begins as a field worker at BCI, assisting with plot maintenance.
1987: Salomón leads the canopy project at BCI to determine species of trees with dioica flowers.
1989: Salomón continues his leadership of the canopy project at BCI.
1990: Salomón helps to organize the recensus of the 50-ha BCI plot with a special focus on species identification of recruited plants.
2005: Luis collect leaf samples from trees on BCI.
2006: Luis surveys the 1-ha plots in the Panama Canal Area; Guillermo collects leaf samples from BCI for the DNA barcoding project.
2007: Luis and Guillermo participate in the first census of lianas at BCI with Dr. Stefan Schnitzer.
2008: Luis continues with the liana census; Guillermo contributes to a seedling census with Dr. Liza Comita.
2009: Luis concludes the liana census, then begins installation of dendrometers at BCI.
2010: Luis continues installation of dendrometers; Luis and Guillermo participate in their first ForestGEO tree census at BCI.