Spotlight Series: Erika Gonzalez-Akre & Her Path from the Tropics to SCBI's Temperate Plot
Erika Gonzalez-Akre is the lab manager of the ForestGEO Ecosystems and Climate Program at the Smithsonian Conservation Biology Institute (SCBI).  Her academic interests began in physics, transitioned to Earth sciences, and for the last eight years have focused on forest ecology.  At SCBI Erika has led both tree mortality and core surveys for the 25-ha plot and has brought historical surveys up to ForestGEO's standards.  When she's not doing forest-related work, she embroiders and practices yoga.  Erika is departing the Lab this fall, and we thank her for her years of energy, initiative, and leadership. 
When did you realize that you wanted to be a scientist/work in ecology?  How did you decide to go down this career path?
It was a long way to get into forest ecology, but a good one. Early on I knew I wanted to be involved in the sciences. I was very good at physics and math in high school, so I decided to pursue my undergraduate degree in physics in my hometown of Caracas, Venezuela, but when the first semester came I hated it! During my second semester in college I had to take Fundamentals of Earth Sciences as part of the core curriculum, and that was love at first sight (field work!), so I ended up completing my degree in Earth sciences. Shortly after I pursued a master's degree in geology (Universidad Central de Venezuela), focusing on "soft rocks" because many of the funding opportunities for graduate students came from the national oil industry. I concentrated on palynology (the study of pollen and spores) and the application of fossil plant material on paleo-ecological reconstruction. The program made me very curious about plants and because of that, I followed up with a second masters (Universidad de Los Andes) in neotropical botany: the best decision of my life! The study of living and fossil plants, their taxonomy, ecology, and evolution, led me to the place I am now.
What led you down the path to your current job?  What has been your biggest challenge in getting to this point in your career?
It has been somehow smooth and organic, not a big challenge I would say. When I arrived in the US, I volunteered at the National Museum of Natural History (NMNH) in the Paleobotany Department under the supervision of Dr. Scott Wing. I learned a lot from that experience and stayed for about one year collaborating on multiple projects (and doing more field work, of course). I also assisted with some taxonomical projects at the US National Herbarium, working along Dr. Vicki Funk. I really enjoyed my work at NMNH. Soon after (in 2012) my husband started his sabbatical at SCBI, where there was also an opening to conduct a tree survey at the ForestGEO plot and the Shenandoah National Park (SNP). And voila, here I am!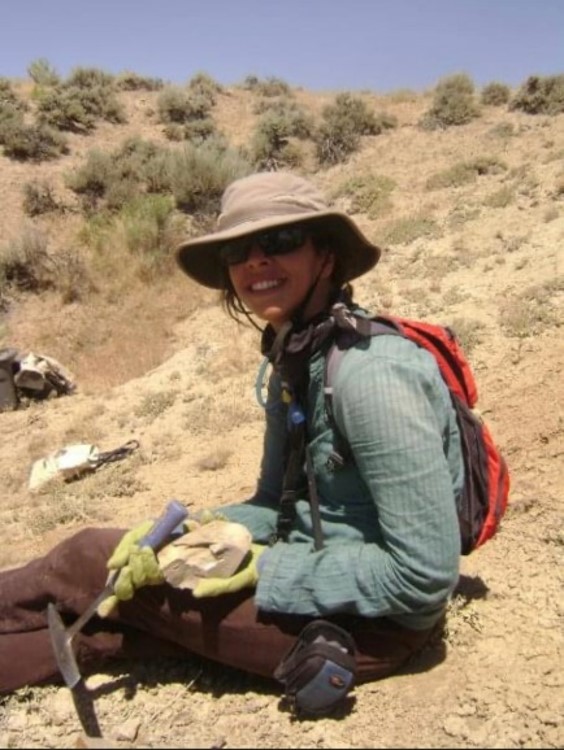 When did you first get involved with the ForestGEO network?
In 2012, I worked with Dr. William McShea to bring some historical surveys conducted at SCBI and SNP up to ForestGEO standards.
This is super cool!  What did that process require?
Basically we revisited plots that were surveyed in the 1980s and measured every stem down to 1 cm (they only measured trees above 10 cm in the past), mapped and identified new ones.  It took about four months between one intern, me, and a few volunteers.  That was the first time I read the full Condit, 1998 book.
Neat; okay, back to the trajectory of your involvement with ForestGEO:
In 2013, I led the second core census at SCBI and got very involved with all the additional measurements that we take in our plot (seedlings, dendrobands, weather data). In 2014, I moved to Dr. Kristina Teixeira's lab and since then, I believe, I have become very productive in many aspects, not only academically but also personally, by actively collaborating (and publishing) in academic research and by having a leading role as a lab/program manager.  In 2018, I oversaw the third core census at SCBI.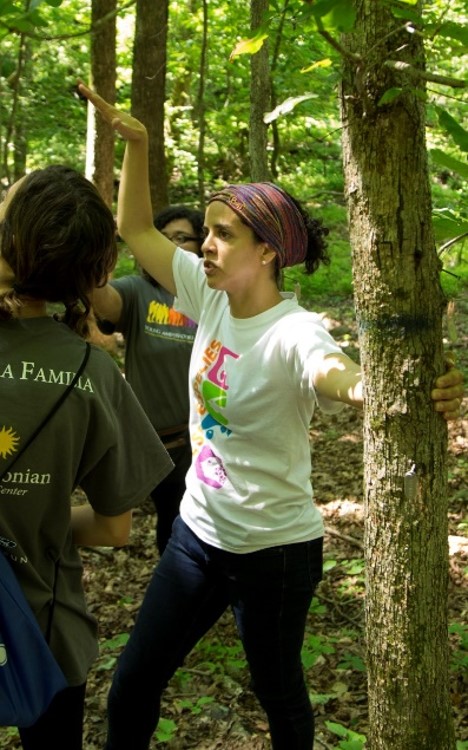 What is the most interesting or unique aspect of your site? 
The SCBI plot represents a typical North American secondary temperate forest, very pretty and "semi-diverse" from my tropical point of view. The orchids flowering in the summer, as well as the black bears hanging around, are always fascinating. The bears love any experiment we try, especially if any of the materials we use are white PVC pipe (e.g. seedling plots or automated dendrobands). The SCBI ForestGEO site and SCBI host the NEON Mid-Atlantic domain headquarters.
What questions are your currently addressing in your research/site?
I have been involved in planning and overseeing the annual tree mortality surveys since 2014, earlier results of which were published in 2016 (Gonzalez-Akre et al, 2016). The survey consists of visits to ~10,000 trees in three months to assess their alive/dead status. These surveys have been very important to capture the decline, of ash trees in particular, due to the Emerald Ash Borer (Anderson-Teixeira, et al, 2020). It surprises me how a species can go almost fully extinct in a matter of a few years due to an invasive insect.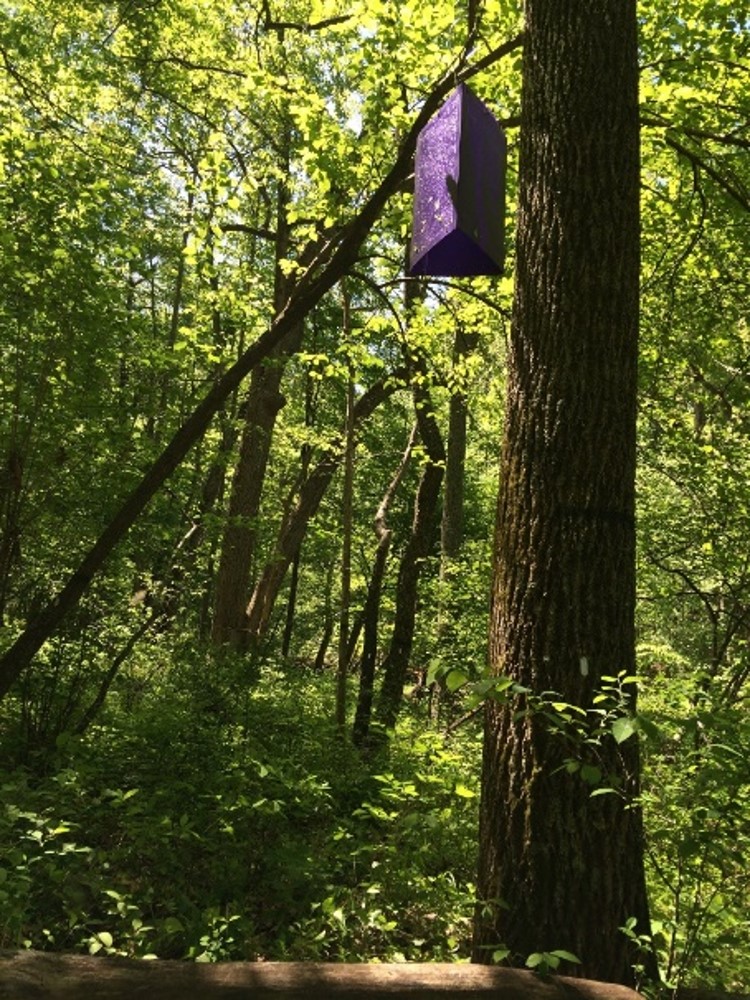 Most recently, I have been working on building an R package that aims to facilitate biomass calculation in extratropical ForestGEO sites (and beyond); stay tuned, it will come soon.
What is your favorite part about your work?
I really enjoy and appreciate the collaborative, inclusive environment at SCBI. It is very inspiring to be a part of. In addition, we at the Ecosystems and Climate Lab have, for several years, been one of the most diverse labs at SCBI, with members from many different countries participating as interns, fellows, and staff.  Another aspect of my work that I like is the chance to witness how our interns mature academically and go to incredible programs to pursue their careers; they are like children that we see growing up under our ForestGEO umbrella.
What do you like to do when you're not studying forest dynamics?
I have been practicing yoga for about 15 years (ashtanga, for the yoga savvies), and I recommend it to everyone (please, do it!). I recently started to include Qigong as part of my weekend practice, a martial art technique that focuses on breathing and meditation (it's a standing mediation so you don't fall sleep). I really enjoy those two practices, and would do them all-day-everyday if it was possible. I also like embroidery (very granny-like, but very meditative too) and painting using water colors and colored pencil, though with these I'm more at a forever-novice-initial level.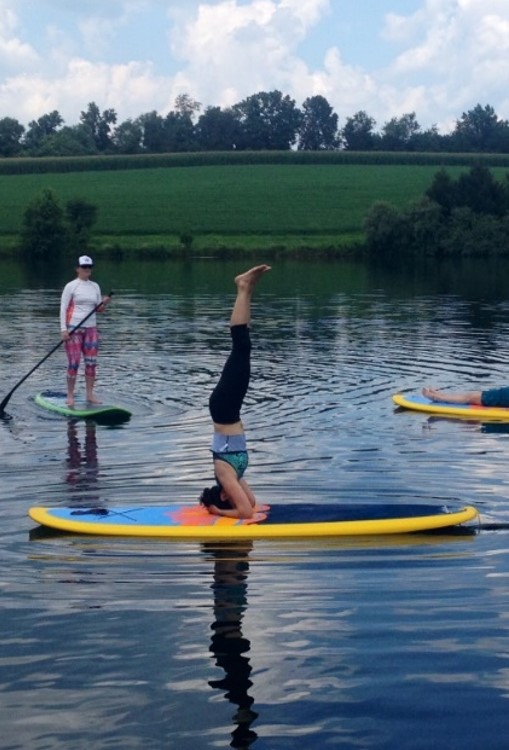 Selected Publications
Anderson-Teixeira, K. J., V. Herrmann, W. B. Cass, A. B. Williams, S. J. Paull, E. B. Gonzalez-Akre, R. Helcoski, A. J. Tepley, N. A. Bourg, C. T. Cosma, A. E. Ferson, C. Kittle, V. Meakem, I. R. McGregor, M. N. Prestipino, M. K. Scott, A. R. Terrell, A. Alonso, F. Dallmeier, and W. J. McShea. 2020. Long-Term Impacts of Invasive Insects and Pathogens on Composition, Biomass, and Diversity of Forests in Virginia's Blue Ridge Mountains. Ecosystems.  DOI:10.1007/s10021-020-00503-w
Helcoski, R., Tepley, A. J., McGarvey, J. C., Gonzalez-Akre, E., Meakem, V., Thompson, J. R., & Anderson-Teixeira, K. J. (2019). No significant increase in tree mortality following coring in a temperate hardwood forest. Tree-Ring Research, 75(1): 67. DOI: 10.3959/1536-1098-75.1.67
Meakem, V, Tepley, AJ, Gonzalez-Akre, EB, Herrmann V, Muller-Landau, HC, Wright, SJ, Hubbell, SP, Condit, R, Anderson-Teixeira, KJ. (2018) Role of tree size in moist tropical forest carbon cycling and water deficit responses. New Phytologist, 219: 947-958. DOI: 10.1111/nph.14633
Ramage, B.S., Johnson, D.J., Gonzalez-Akre, E., McShea, W.J., Anderson-Teixeira, K.J., Bourg, N.A., Clay, K. (2017) Sapling growth rates reveal conspecific negative density dependence in a temperate forest. Ecology and Evolution, 7(19): 7661-7671. DOI: 10.1002/ece3.3298
Gonzalez-Akre, E. B., Meakem, V., Eng, C.Y., Tepley, A. J., Bourg, N. A., McShea, W. J., Davies, S. J. and Anderson-Teixeira, K. J. (2016). Patterns of tree mortality in a temperate deciduous forest derived from a large forest dynamics plot. Ecosphere 7(12): e01595. DOI: 10.1002/ecs2.1595