ForestGEO network adapts in response to COVID-induced changes
On March 11, the World Health Organization declared the COVID-19 (coronavirus) outbreak a global pandemic. Since then, daily life around the world has drastically changed, and physical distancing, face masks, and a surge in teleworking have become a way of life for many. Fieldwork at ForestGEO sites around the world has been severely impacted, with many unique long-term monitoring projects on hold. Decades-long studies of flowering and fruiting patterns of trees, foraging behavior of primates, dynamics of insect populations, and the 40-year census of the BCI plot are now stopped. These interruptions are going to have lasting effects on our ability to understand how the world's forests are responding as climate changes. Alongside the disappointment and uncertainty that COVID-19 has introduced, a spirit of flexibility, a willingness to adapt and rise to the occasion wherever possible, has also emerged. Below, we share how members of the ForestGEO network have found opportunities amid the disruption.
---
Although physical distancing precludes field crews from embarking upon Wanang's third census, colleagues at ForestGEO's partner institution, the New Guinea Binatang Research Center, have been able to continue with research throughout the coronavirus pandemic. Vojtech Novotny, a PI of the Wanang plot in Papua New Guinea, frames travel restrictions and their fallout on scientific research "as a test on the rhetoric of 'capacity building' within tropical countries," noting that "if a sudden interruption of international travel causes tropical research to stop, then it is a sign that the capacity building has not been really robust."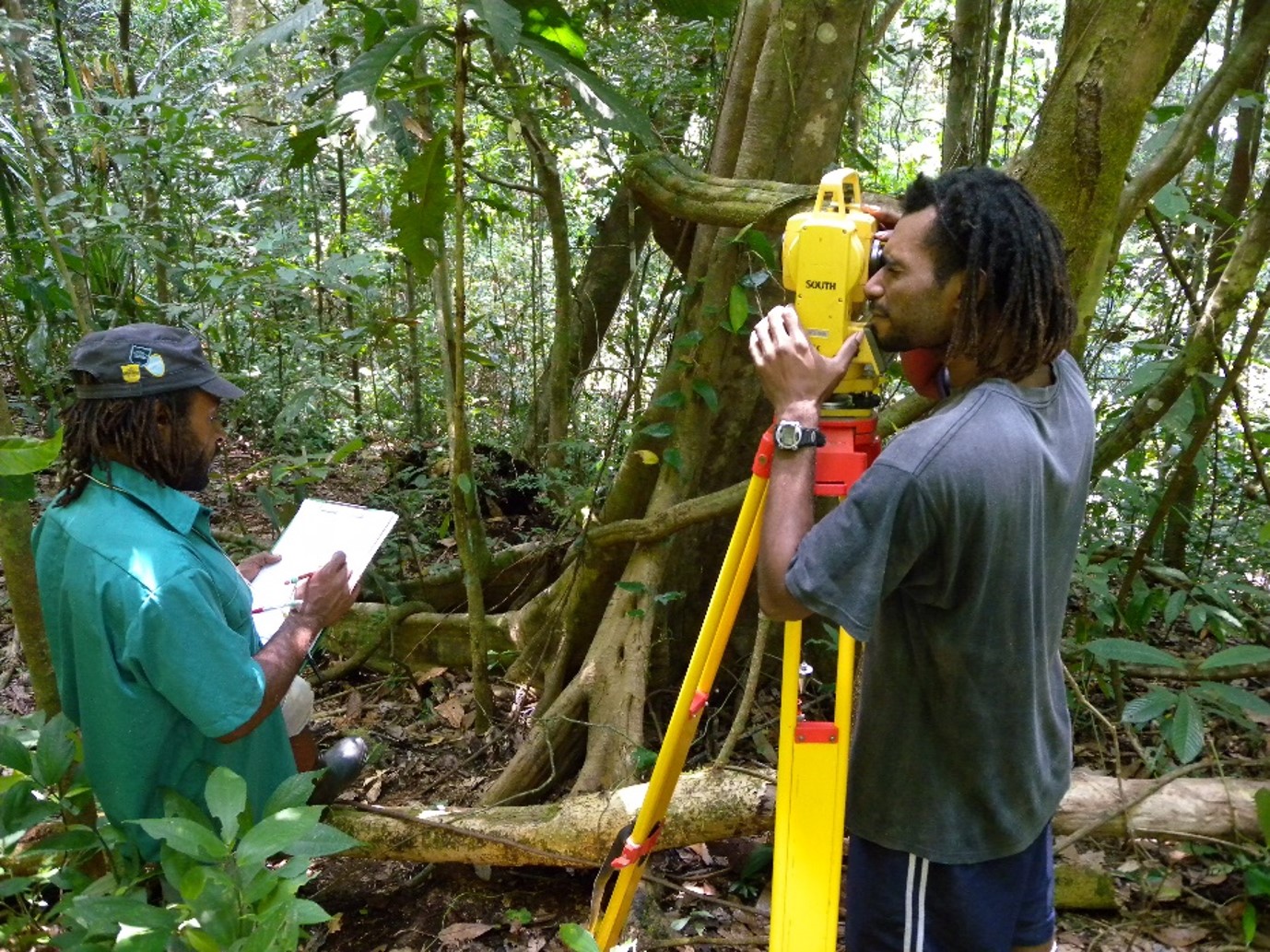 Cliffson Idigel and Joseph Kua, field crew members at Wanang 50-ha plot (photo from Wanang's first census). Photo credit: George Weiblen
One of ForestGEO's main goals is to strengthen scientific capacity among in-country partners at every level, from field crew members to postdocs to PIs. Rolando Pérez started at Barro Colorado Island (BCI) as a field technician in 1986, by 1995 he was supervising censuses, and since 2018 he's been a PI of the plot. He and his crew set out to begin BCI's ninth census this past January, but by March they needed to halt their efforts in order to stay safe and abide by public health mandates. Although unplanned, Rolando now has time to harness his 30 years of knowledge into concrete training tools. He has created a series of written lessons, complete with photographs, to introduce the concepts of archiving plants in an herbarium, identifying important field characteristics of trees, and grouping plants into families and species based on those characteristics. He hopes to use these tools with his field crew and to make them accessible online for anyone with an interest in BCI's flora. Rolando suggests that "the new generation of scientists from the ForestGEO network should not only learn how to analyze data, they should also be able to recognize, at least, the most common species that appear in the plots and about which they are writing." The shelter-in-place orders have created an unexpected window of opportunity for Rolando to strengthen capacity in BCI for this underappreciated set of skills.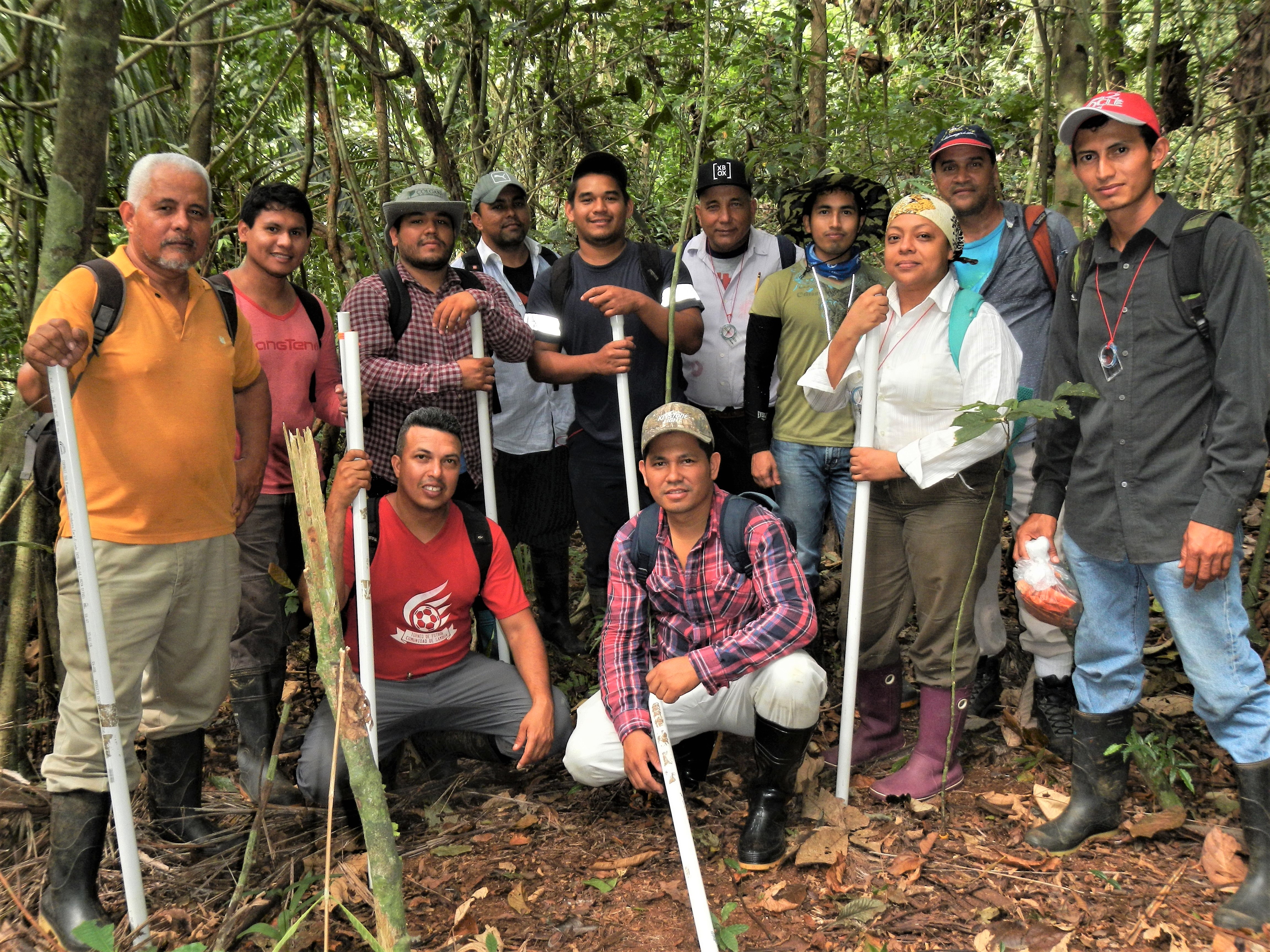 The BCI field crew as they embark upon their 2020 census. Standing, from left to right: Salomón Aguilar, Maikol Guevara, Richard Martínez, Guillermo Aguilar, Victor Rojas, Luis Aguilar, Anayansi Cerezo, Rolando Pérez, Luis Cedeño, Luis Navarro; kneeling: Biancolini Castro, Luis Martínez
Luisa Gómez, a master's student at Universidad Nacional de Colombia, Sede Medellín, is leading the third census for Amacayacu's 25-ha plot. Between July 2019 and March 2020 Luisa and her crew were able to census 18 ha of the plot, but then needed to pause the census in light of public health measures. Luisa said that in the interim, "we have significantly advanced in cleaning and formatting the third census dataset and in identifying trees with taxonomic problems." She notes that identification work has been done in partnership "with other institutions and researchers associated with the plot, particularly, the botanical crew in the SINCHI Institute." Although data collection is not currently possible, the opportunity to prepare data for future analyses and to collaborate with partner organizations is being strengthened.
Bailey McNichol, a PhD student at the University of Nebraska-Lincoln, has played a crucial role in the inaugural censuses of both the Niobrara and Indian Cave plots. The former was completed in July 2019, and the latter was scheduled to finish in the spring 2020 field season. Sabrina Russo, PI of both plots, said that Bailey "has plenty of research that she can do with the data we have right now, but her research progress for her degree would be faster if she could continue data collection, and especially if we could finish the Indian Cave plot in summer 2020." Because she is presently unable to collect new data, Bailey is pivoting from censusing Indian Cave to starting the analysis for the introductory plot paper for Niobrara – an endeavor that will give her first-author experience.
Greg Gilbert, PI of the Santa Cruz plot, remains committed to maintaining student employment and involvement in research despite the current lockdown. He said, "All the work done for tree censuses and phenology monitoring is done by UCSC undergraduates – some as paid crew leaders and others as for-credit interns gaining experience in field ecology. We have had to suspend all data collection at the Santa Cruz plot for the coming months. For our paid crew leaders, we are actively finding online tasks in support of research that they can do. Those students rely on their jobs to be able to attend college; we are dedicated to ensuring they continue to be paid."
Many students in forest science depend on short-term opportunities to earn income and gain field experience. Travel restrictions and physical distancing measures have restricted opportunities to learn together in-person. Bianca Gonzalez had expected to move from New Mexico to Virginia to begin her internship at the Smithsonian Conservation Biology Institute in May. Instead, she will begin her internship remotely, an approach facilitated by online collaborative tools like GitHub. Bianca's internship, involving analysis of tree cores from ForestGEO sites to explore the climate sensitivity of tree growth, can be done remotely. While the in-person advantage of the internship is gone, ForestGEO staff scientist and Bianca's internship advisor, Kristina Anderson-Teixeira, notes that "we're trying to replace some of the more casual communications among team members with instant messaging and collaboration apps (Slack and Microsoft Teams). I'm hoping that it can maintain some of the informal 'chat' that would occur if we were all together, and where everyone can feel comfortable asking others in the lab for help."
Suzanne Ou, a 2019 ForestGEO Research Grant recipient and PhD student of Kabir Peay at Stanford University, also embraced the digital landscape to connect people to her research by creating a virtual field trip to ForestGEO's Lambir plot in Malaysia by creating a fantastic Twitter thread, complete with beautiful photographs and conversational, informative narrative.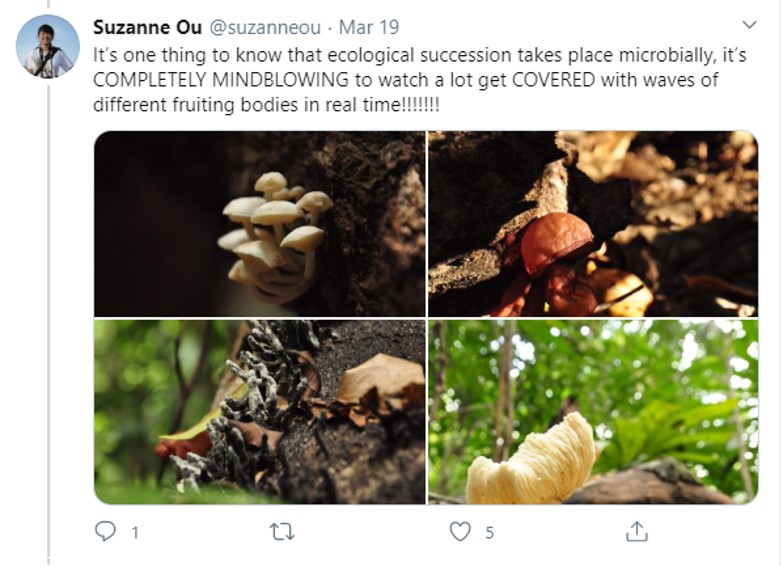 Installment 5 of Suzanne's virtual field trip.
Last year Suzanne participated in ForestGEO's Annual Analytical Workshop in Singapore. Due to travel restrictions and the need for physical distancing, ForestGEO will be unable to offer its annual workshop in 2020. For Caly McCarthy, one of ForestGEO's administrative assistants, this means that her spring schedule, typically filled with orchestrating travel for 30+ international participants of the workshop, has a new vacancy. She identifies this found time as an opportunity for professional development and has been learning the nuances of ArcGIS Online to create customized maps of the ForestGEO network. She explains that she's also taught herself some basic HTML tags and is using them to maintain functionality of hyperlinks, margins, line breaks, and other formatting options on the ForestGEO website. She said, "It's been surprisingly satisfying to learn these new skills."
The pandemic has caused lots of uncertainty. We're unsure how we'll recover from gaps in data collection and what the implications will be for future training and research activities. What we do know is that our network is resilient and adaptable, and we're proud of the ways that members of the ForestGEO community are adjusting their work during this unprecedented time.