Census Update from the Field: Tyson Research Center Edition
Field crews are currently conducting censuses at three ForestGEO sites (Donglingshan, Tyson Research Center, and Wytham Woods). Yesterday we profiled Donglingshan.  Today we feature Tyson Research Center, and tomorrow we'll do so for Wytham Woods.
(Update: Wytham Woods installment; Bonus!  Wind River installment)
Tyson Research Center:  USA | 20-ha | 2 Censuses: 2013, 2018-2019/2021* | PI = Jonathan Myers
*The second census at TRC was mostly completed in 2019 but for an abundant shrub species— Lindera benzoin (northern spicebush)—with lots of multiple stems and high stem turnover.  The COVID-19 pandemic delayed the last leg of fieldwork until 2021.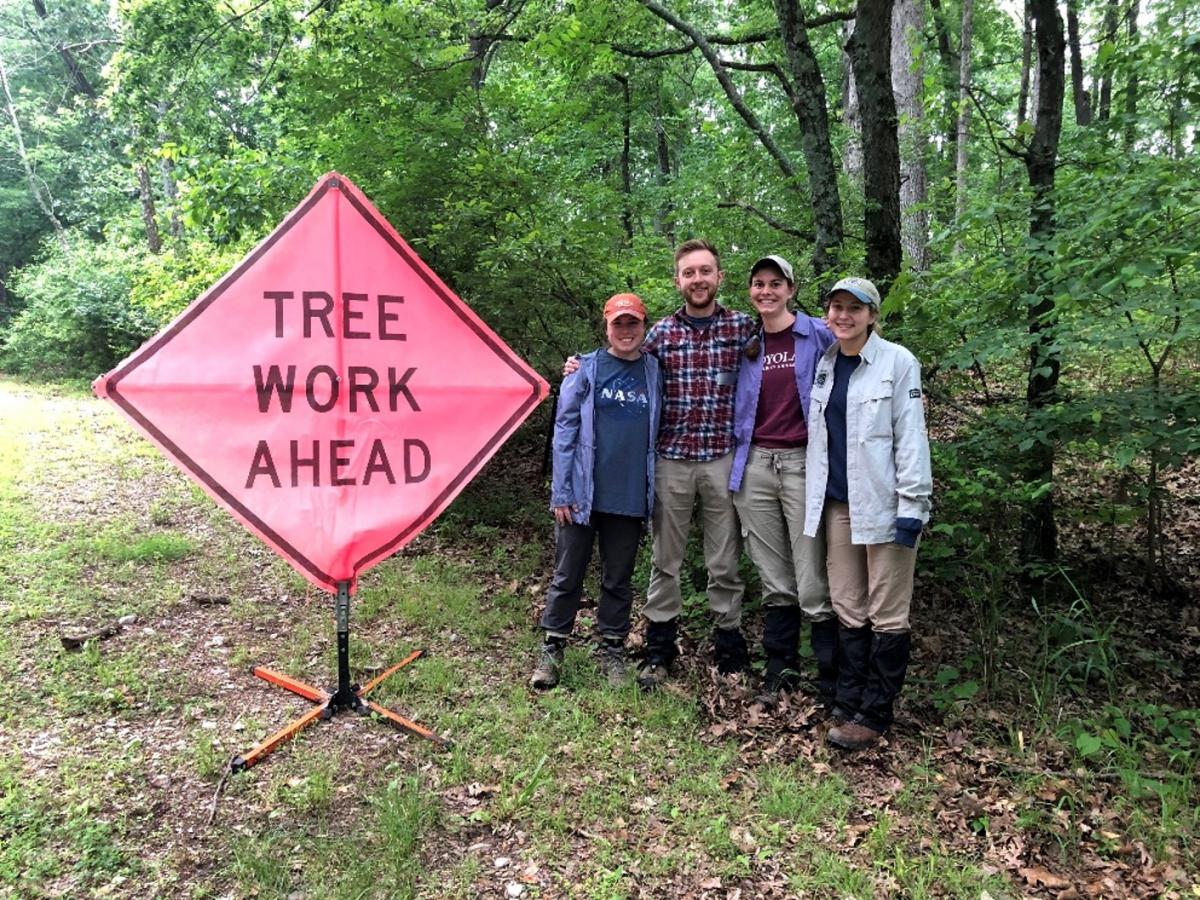 How does it feel to be back in the field as parts of the world are emerging from stay-at-home orders and others are still under strict public health mandates?
"Although it took us some time to regain our 'forest legs,' it feels refreshing not to be bound to a screen."
- Paul Elliott (Tyson Research Center technician)
What species do you encounter most while censusing your plot? 
"Our plot is an oak-hickory forest, so we very often encounter oaks, such as white oak (Quercus alba) and red oak (Quercus rubra). Lately we have been censusing areas of the plot where northern spicebush (Lindera benzoin) is highly abundant. We have an ongoing debate amongst our team members over what spice bush smells like, ranging from fruit loops to Pine-Sol."
- Tyson Research Center Field Crew
"Other than trees, we frequently encounter lone star ticks (Amblyomma americanum), box turtles (Terrapene sp.), American toads (Anaxyrux americanus), and several species of spiders such as orchard orbweavers (Leucauge venusta) and arrowhead orbweavers (Verrucosa arenata)."
- Erin O'Connell (Tyson Research Center lead technician)
What do you pack for lunch most days?  Why does it work well for the field?
"Our plot is located at Tyson Research Center and we are lucky to have access to a small kitchen, so we often pack leftovers or sandwiches, and soup in the fall. We usually bring a midmorning snack to the field for 'second breakfast.'"
- Tyson Research Center Field Crew
"In my lunchbox, I usually pack a sandwich with lunch meat, cheese, and veggies. I always have some sort of fruit, usually a banana or bowl of blueberries. I always pack something salty like crackers or pretzels. Also, I usually bring a granola bar out into the field with me in case I get hungry while on the job."
- Annie Grimshaw (Tyson Research Center NSF REU student)
If you've worked on previous censuses at the plot, in what ways has the forest changed since then?
"This is the first census our current team has worked on, but based on the species we are seeing recruit, we think that the invasive bush honeysuckle (Lonicera maackii) is spreading in the plot."
- Erin O'Connell
"During the summer field season, it is evident that the forest is starting to get hotter earlier. I am also starting to see an increase in the number of ticks and mosquitos out in the Ozarks."
- Annie Grimshaw
Censusing large plots requires lots of repetition.  How do you keep yourself focused on the task at hand?
"Although the task at hand is repetitious, the forest is always full of surprises. We keep ourselves fresh by pausing to admire nature, whether it is a handsome frog, a new fungus we have not seen before, or simply the way the light filters through the canopy. We also guess the DBH of big trees before we measure them and then compete for bragging rights."
­- Tyson Research Center Field Crew
What tool do you find most helpful in doing your work?
"A water bottle and a positive attitude are the two most essential tools for field work."
- Charlotte DiBiase (Tyson Research Center technician)
What's one thing you've learned over the course of your work on this census (forest-related or not)?
"We have learned technical skills such identifying trees based on bark, buds, and growth form in the late fall when the leaves are off of our deciduous tree species, as well as determining whether a tree is alive during that time of year. We have also learned self-care and how to stay safe in the field during all seasons."
- Tyson Research Center Field Crew